A Chemistry Conversation with Greg Atkinson
Have we been too "building-centric"? We are all learning that church isn't about a one-hour service on Sundays.
Greg Atkinson, the Founder of Worship Impressions and the First Impressions Conference, shares with Matt Steen, Co-Founder of Chemistry Staffing, about what churches should be thinking about as they begin to open back up.
Watch the conversation or view the transcript

---
Sign up for the 3-Day
First Impressions Conference
where you'll hear from 120 guest speakers and thought leaders about guest experience, preaching, communications, youth ministry, and more!
Chemistry readers can get $10 off by using this promo code: CHEMISTRY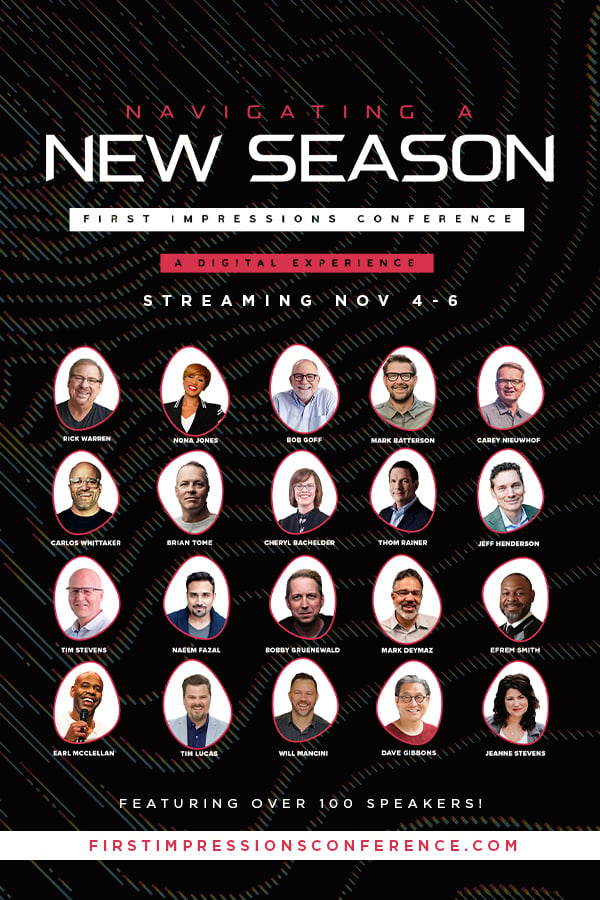 ---
Read the Full Transcript
Matt Steen: Well hey, this is Matt Steen, Co-Founder of Chemistry Staffing, and this is another Chemistry conversation. Today Greg Atkinson is joining me. Greg is, man he's "the guy" in the church when it comes to figuring out your first impressions and guest experience. Today, just kind of wanted to take a few minutes and say, we are six months into the apocalypse. Things changed radically back in March. Really, it's two questions that I've got for you Greg that we'll get to. First, what are you learning? But two, what do people need to be thinking about when it comes to first impressions in the church now that we're starting to open back up?
Greg Atkinson: I'm learning a lot. I'm learning that in hindsight, we as church leaders may have been too building-centric even though we would never want to admit that. I heard Larry Osborne talk about that. We always say, hey it's more than a Sunday morning service at 11am. It's more than one hour a week. We've preached that for years. But then when our buildings got took away, it turned around to, okay what do we do, how do we survive. And through this all, we're all learning, well it was never about one hour on Sunday. So how do we exist in our community, how do we exist and be a presence and a force for good in the world when we have that building taken out of the equation for a season. Now how do we engage with people that haven't returned yet? Gloo just released a new survey I was talking with Thom Rainer about this morning. Most churches in America, only 30% of the congregation has returned. Which means 70% is sitting at home watching online, so there's a lot to learn and think through there. But Gloo said in a new survey that just got released that Thom Rainer told me about, he said that for the churches that have 65% attendance returned - which means that there's still 35% at home - but those that hit 65% attendance make up 8% of all churches. So only 8% of churches are even barely over halfway of their congregation returning. Most churches it's 30%. So that means that we can't just in March and April, May, and June lean on online church and then sideline, back on the bench, shelf it. We still have to be plugged in and streaming and engaged online because anywhere from 70% to 35% of your congregation is watching through a camera, so there's a lot to think through.
Matt Steen: That's why so much of the work that we've been doing has been about the five strategies of online ministry, right? Pick one and go because it's not going away, and you just need to be honest about what you're going to do and how important that is. So that's interesting that you bring that up, Greg, because so much of what your work has been traditionally has been the first impression piece in building. But now we've got to start to figure out what does the first impression piece look like online if 70% of our people aren't necessarily showing up in the building. So what's different about that than what you would typically do in an in-person environment?
Greg Atkinson: Yeah, so I've been doing secret shoppers for well over a decade, and every single secret shopper report or evaluation I do starts with online presence. I've always said and acknowledged that our first impression starts online before they ever step foot on a physical campus. So over the years, I've done a lot of online presence evaluation where people hire me to evaluate their social media and website. I never get on an airplane, I never leave my house. I'm sitting at home and I log onto Google and the web, and I do my report and I send it to them and we go over it via Zoom. I've been doing that for over a decade. It always starts online. And the difference is now it continues online. So people that are watching your music and your sermon are online, anywhere like I said from 35% up to 70%, maybe even 80%, Glue has surveys that are going from 20-40% have returned. So if you only have 20% of your congregation returned, 80% are singing online and listening and taking notes of the sermon online. So there's a lot to think about. My passion is that you never forget that online audience. Jeffrey talks about phygital, physical and digital. We will forevermore from 2020 on be a phygital world where when we're speaking to people in the room, we're also looking to people online and acknowledging them and thanking them for tuning in and being a part of our worship experience. And then trying to get as creative as possible, to find ways to engage with them, whether it be an online connection card or through the chat or texting solutions. It's very simple if you're watching on Facebook Live or like me, I have a Roku television and I watch on the YouTube app. If I'm watching YouTube on my TV, it's very simple for somebody to say, hey text "I'm new" to 55537, we want to send you some info. So I just pick up my phone when I'm sitting there watching television, and I text the number, and then they've got my info, I fill out a digital connection card, and they've got my info in the system, and then they can engage with me and interact with me. And hopefully eventually it leads me back to the church when the time is right. But it's a very interesting phygital world right now that's regardless of where you are in America, nobody has had 100% of their congregation return, so everybody is in that phygital space where some of your congregation for whatever reason, may it be fear or legitimate health concerns or a weak immune system, compromised immune system, for whatever reason they're still at home watching online. So we are in that phygital world, and I think from here on out even when there's a vaccine and COVID is not in the equation and people aren't wearing masks, when life goes back to "normal," we will still have people that prefer to watch online, to sit in their pajamas and drink coffee and watch on their sofa. That's just the world we live in. Even pre-COVID - and you know this, Matt - pre-COVID, people were coming once or twice a month in person. Andy Stanley, Carey Nieuwhof would talk about don't track attendance, track engagement. But people were coming about one Sunday a month in person even pre-COVID. So this is the new world that we're in. We have to navigate. And that's what the First Impressions Conference theme is this year. Navigating a new season. This is a crazy time.
Matt Steen: It is, it is. So you brought up the First Impressions Conference because that's coming up. You're neck deep in planning that, and that's coming really soon. I know people will go check this out firstimpressionsconference.com and we'll have the link to it down below here. But tell me, give me your best sales pitch on that bad boy.
Greg Atkinson: This is incredible, we have 120 speakers. I went back today and counted on the website again. I just today counted it again. I was working with my team and going through the script with my admin and the schedule. People always email Customer Service and they'll say, "Can you send us a schedule? We want to plan out the three days for our team and watch it as a staff" because there's a children's ministry panel and a social media panel and guest services panel, communications, so they want to say, when is the best time for my communications director to tune in, when is the best time for my lead pastor to tune in, when is the best time for my children's minister to tune in. So we're working hard on a schedule. We go to Atlanta this week. This is coming up to the last week of September. We go to Atlanta this week, and we film with Trey McKnight who is our host from Northpoint online. But 120 speakers. We're going to touch on everything from worship to children's to social media to communications to preaching. We have a lot of lead pastors speaking. We have a lot of authors and thinkers, thought leaders, people that are professional experts in their field speaking, people that think out of the box. I was watching a talk this morning and I'm taking notes on it, trying to figure out where in the conference do I want to put in... so it's a three-day conference. You'll see about half of the speakers, 60 speakers, live during the three-day conference. And then 60 you'll be able to watch on demand as breakouts that you can sit there and watch at your leisure and pick and choose, watch them as you have time. So you have total of 120. But it's just firstimpressionsconference.com. I was telling you off camera, we're even working behind-the-scenes on the 2021 conference and putting together stuff for that and we'll announce this week. But it's going to be good. Our hope is that it's a great resource to help you. When you hear enough thinkers and authors, practitioners, and pastors, and thought leaders think through this navigating this new season, it's going to get the wheels turning. So we might not have all the answers, but when you hear talk after talk after talk and you're sitting there over three days taking notes with your team and then you have team discussions, which is where the real magic happens where your team gets together and you say, what did you think about Carey Nieuwhof talk? What did you think about when he said this and this, and you start churning, those wheels start going, and you're navigating to your own new season. Or Brian Tome from Crossroads in Cincinnati, he has a very blunt, direct talk which he's known for, and he's going to hit you right between the eyes. You know, Brian Tome is just like Andy Stanley, they cancelled services until 2021. So he's going to talk about what led to that decision and thinking it through of how do we navigate in the new season of ministry. We're excited about it. You can just go to firstimpressionsconference.com and learn more. There's a promo video. You can watch that and check it out.
Matt Steen: For those of you who haven't been to that before, this was one of the things that I would do year and year out with our team - and I don't think I gold you this, Greg - with churches I've served at. One of my passions is making sure that guest experience is super high quality, is super inviting. Because I'm convinced that the most awkward thing a person can do in their life is walk from their car into the front door of a church for the first time.
Greg Atkinson: It's so brave.
Matt Steen: So for our team, we would do this. We would have our team, all of them, volunteers and everything watch through this and would trigger discussions for the rest of the year for us. So it's definitely worth the investment for those of you who haven't been to it before. And that's firstimpressionsconference.com. Greg, thanks for the time today man. I'm so grateful for the work that you're doing helping churches figure out their first impressions, even when everything goes sideways and campuses are closed. Thanks for all that you're doing, and thanks for serving churches well.
Greg Atkinson: Yeah, thank you for having me.