Ben Johnson's Celebration Story
One of our greatest joys here at Chemistry Staffing is to hear from previous candidates and churches about the positive experiences they had while going through their search journey with us. We celebrate with Ben Johnson and his new River Valley Christian Fellowship family in this incredible, long-term fit!
Here's Ben's story ...
"
My wife and I felt a stirring from the Lord almost ten years ago about the Austin area. We felt that this part of Texas was "home" and that God might have something more for us here. We didn't understand it fully, and we prayed for more clarity. The best we understood through prayer was that God was saying "not yet." This continued for almost a decade until this last Christmas/New Years, something shifted, and it was as if the Holy Spirit spoke to my wife and me and told us, "it's time to go."
Through more prayer and searching for ministry roles in the Austin area, we came across this Community Groups Pastor position at River Valley in Bastrop, Texas. But to apply, we had to interact with an organization called Chemistry Staffing.
I had never heard of Chemistry Staffing before this journey, but I am thankful to have gone through the journey with this team and have the experience that I do with them. Chemistry works to help the church and the minister make a great connection. Their goal was to help River Valley find an excellent fit for the role they had open, and I was looking for an ideal fit for what I felt like the Lord was stirring in my heart (and my family).
Before interacting with the church, I had a fairly intense interview process (and I understand the church did too) with Chemistry. I'm glad that I did because there were no surprises at what the church was getting or vice versa. It was also a good opportunity to ask some candid questions to Chemistry about the church...things that the church might not be able to answer about themselves. I'm sure the church experienced the same open dialog about me prior to connecting with me directly.
I was impressed with Chemistry because I genuinely felt they were committed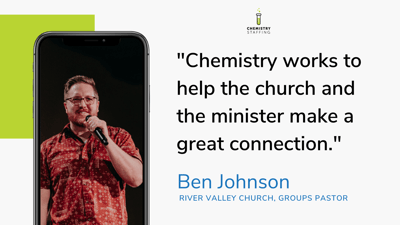 to helping me find a great fit - whether that was at River Valley or elsewhere. They weren't just committed to helping River Valley fill a position. They care about everyone involved and certainly care about the Kingdom of heaven first and foremost!
I am excited to join the team at River Valley Christian Fellowship and participate in the mission of helping people in the Bastrop, TX, area connect with Jesus! My wife and three boys are equally excited to be on this adventure to make a new home, meet new neighbors, and share the love of Jesus with families in the hill country. The River Valley team has already been so incredible to welcome us to the community and make us feel right at home.
The search process can be long and difficult. You may even feel weary along the way. There are moments where it feels like it's just about to all come together, and then things fall apart. As cliche as it may all sound, I encourage you to trust the Lord through it all. For me, the Lord gave my family and me a stirring/sense for a "home" that took almost a decade before He was ready for us to "go." But we tried to trust His timing and His ways, and I'm so thankful we did.
It was tempting to try and control my circumstances or even force a change myself during the ten years, but my entire family would have missed blessing after blessing. I encourage you ... always trust the Lord and wait upon Him, no matter how hard it may seem, especially in the lowest of moments. The fruit of patience and self-control are worth it! Every time - it's worth it! The Bible proves it, and so does our life journey!
Hineni! (Isaiah 6)
Are you interested in starting your journey as a candidate? Check out our job board here. If you find a position you that fits you, feel free to apply.
Are you looking for the right full-time, church staff member for your ministry? I'd love to have a conversation with you.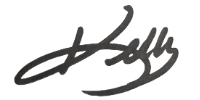 Kelly Norris
Kelly Norris has nearly 30 years of experience in Children's, Operations, Communications, Church Planting, Creative Arts, Associate, and Executive Pastoral positions. She is also the owner of Kelability, LLC, a Kingdom-minded company supporting and developing ministries and leaders. She and her family of five reside in central Ohio. Her work with Chemistry Staffing allows Kelly the opportunity to use her diverse coaching and ministry background to help candidates navigate their journey of finding the right position and to help churches find the right candidate for a long-term, healthy fit.