Kids Pastor Opening
Some people like to say that you never have to shovel sunshine!
Pantano Christian Church in Tucson, AZ, is in search of their next Kid's Pastor. This multi-campus church is looking for a leader to develop and execute the vision and mission of the church within the Kid's Ministry across all campuses. They would like a leader who will take an existing dynamic and healthy program and increase its reach and impact in their city.
What will you be doing?
✔️ Leading the Kids' team
✔️ Writing and developing curriculum
✔️ Implementing and participating in the execution of the Sunday services for all kids, ensuring that the volunteers, curriculum, programming, and environment are of the highest quality
✔️ Recruiting, developing and supporting the Kid's Ministry volunteers
✔️ Planning, implementing and overseeing all events and programs in the Kid's Ministry
✔️ Developing a discipleship process for children
✔️ Providing pastoral care to kids and their families
Ultimately, Pantano Christian Church would love someone who possesses excellent communication skills, the ability to teach and train, the ability to delegate well and a visionary leader who has the ability to write and adapt curriculum to the needs of the church community.
Tucson is a great place to live. There are tight-knit neighborhoods where people are really connected. People who love the desert and the diversity of Southwest cities love it here.
Does this sound like a place you'd like to serve?
Go here to apply: www.chemistrystaffing.com/pantano-kids

P.S. If this job doesn't exactly what you're looking for, never fear! Feel free to check the job board for our current list of open positions.
Also, if you find yourself searching for a new church position and coming up empty, you will definitely want to dive into our Church Job Seeker's Bootcamp! Click the button below to learn more.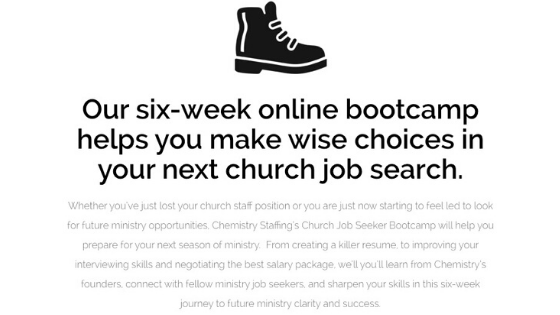 Todd Rhoades
Todd has invested over 30 years in serving churches, having served as a worship pastor for over 15 years, a church elder for more than a decade, and in various ministry leadership roles in both the business and non-profit sectors. As the original founder and developer of ChurchStaffing.com, Todd fundamentally changed the way thousands of churches search for pastors and staff on the internet. Most recently, Todd's work with Leadership Network has provided him exposure to the innovative trends in today's church and inside knowledge of how healthy churches operate and uses it to help churches find a healthy, long-term fit for their next team member. Todd is a graduate of Cedarville University, and lives in Bryan, OH with his wife, Dawn.